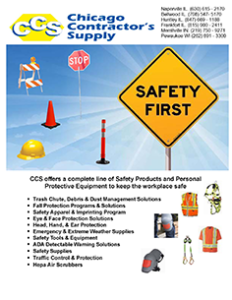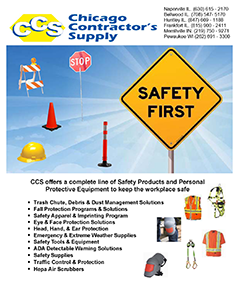 When you think about it, job site hazards are just obstacles to more productive concrete forming. The crew is often forced to work more slowly to avoid any problems.
By identifying hazardous areas with signs, barricades, cones and/or caution tape you clearly mark off safe work zones. Your crew, and any subcontractors, inspectors, suppliers or visitors, know exactly where they belong. Everyone can be focused on the work, not their personal safety.
And speaking of personal safety, every member of the crew should have personal protection equipment (PPE). Hard hats, vests, safety glasses, ear plugs, boots, lanyards and D-hooks are just a few of the things needed to satisfy DOT, OSHA, union and insurance requirements.
We can help keep your crew and job site safe so you can get more done. Contact your CCS representative or visit one of our 6 locations right now!
https://ccs-ces.com/wp-content/uploads/2020/06/CCS-Safety-Brochure-Cover.png
305
236
admin
https://ccs-ces.com/wp-content/uploads/2017/04/chicago-contractor-supply-construction-needs.gif
admin
2020-10-26 08:21:32
2020-10-26 08:42:52
It's Safety… It's Not Negotiable!