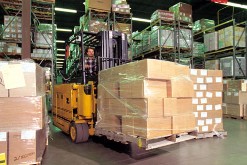 CCS – Chicago Contractor's Supply is the area's largest source for contractor equipment. For over 30 years now, we have been supplying many of the construction industries finest companies with their jobsite sales & rental needs. Contractors have come to rely on our knowledgeable and competent staff to service and supply a wide variety of construction needs.
We have six retail stores and warehouses, stocked with the most specified and well known products on the market today. In addition, CCS Chicago Contractors Supply has a large equipment rental operation to service your forming, shoring and equipment rental requirements. Also, we provide the unique service ability of SureBuilT Manufacturing, with over 300,000 square feet of concrete form & accessory manufacturing capacity.
We have it all!
NEW Product Announcement!
Concrete Reinforcement – A Better Way Forward


Owens Corning Fiberglass Rebar for Flatwork represents a compelling alternative to steel reinforcements. Advantages include: corrosion resistance, light weight, enhanced ease-of-installation, and greater tensile strength than steel.
Physical and Mechanical Properties – 3/8″ Fiberglass is equivalent to 1/2″(No.4) steel


We reserve the right to make improvements in the product and/or process which may result in benefits or changes to some physical-mechanical characteristics. The data contained herein is considered representative of current production and is believed to be reliable and to represent the best available characterization of the product as of July 2011. Tensile test per ASTM D7205.
Applications

Owens Corning Fiberglass Rebar for Flatwork is intended for use in low-load bearing slab on ground applications with service life less than twenty-five years such as: parking slabs, drive-ways, sidewalks, agricultural flats, and Continuous Reinforcement Concrete Paving (CRCP) for streets.