Don't Let Joint Specs Scare You…
Be Prepared With These New Dowel Products!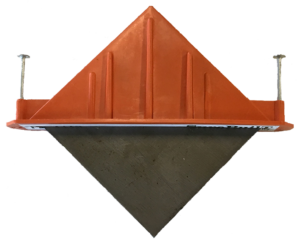 Some architects and engineers are writing new specs for concrete slabs, especially industrial and warehouse slabs with lots of wheeled traffic. They're looking for the best possible load transfer at the joints, including conformance to ACI 302.1R Guide for Concrete Floor and Slab Construction and ACI 360 Design of Slabs-on-Ground.
The diamond-shaped Taper Dowel, available in 1/4″ and 3/8″ thickness, is a great labor-saving product for concrete joint specifications.
Each set includes a plastic sleeve, nails and dowel plate. The sleeves are spaced and nailed along the centerline of the edge form. After the concrete has been placed and the forms have been removed, the dowel plates are inserted into the sleeves in preparation for the adjoining slab.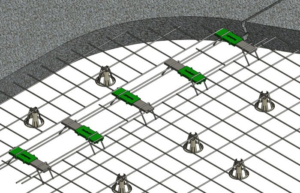 The standard 12′ Basket Dowel, available in different heights and spacings, is placed as a single unit at every planned concrete joint.
The integrated plastic sleeves allow dowel movement, while the steel plates provide the load transfer along the length of the joint.
(Sleeve design is U.S. Patent Pending)
Theses products are recommended for joints up to 0.20" wide and are suitable for all types of concrete floors or pavements, providing load transfer and smooth slab-to-slab transition.
Click here for a Floor Dowel brochure, then contact a CCS representative for more information about Taper Dowels,
Dowel Baskets and other floor doweling products.
https://ccs-ces.com/wp-content/uploads/2019/08/TD14-sleeve-and-plate-top-view.png
651
800
admin
https://ccs-ces.com/wp-content/uploads/2023/05/chicago-contractor-supplies.gif
admin
2019-09-24 13:52:12
2020-10-26 08:42:53
Don't Let Joint Specs Scare You…